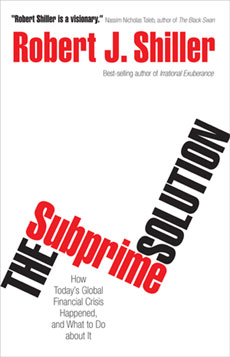 For ordering information contact Princeton University Press or your local bookseller.
THE SUBPRIME SOLUTION
How Today's Global Financial Crisis Happened, and What to Do about It
By Robert J. Shiller
References
"Enhancing Disclosure in the Mortgage-Backed Securities Markets," SEC Staff Report, 2003.
"The Southern Boom," Los Angeles Times, December 26, 1887, p. 6.
"Henry B. Steagall Tells How New Body Will Aid Business," New York Times, January 24, 1932, p. 26.
"Unemployment Insurance," The Times, May 13, 1911, p. 11.
Akerlof, George and Kranton Rachel, "The Economics of Identity," Quarterly Journal of Economics (2000), 115(3): 715-753.
Allen, Frederick Lewis, Only Yesterday: An informal Histroy of the 1920s, New York: Harper and Brothers, 1931, p. 289.
Bernanke, Bes S., Essays on the Great Depression, Princeton, N.J.: Princeton University Press, 2000.
Bernanke, Ben S., "The Economic Outlook," October 20, 2005.
Benarnke, Ben S., "Reducing Preventable Mortgage Foreclosures," speech at the Independent Community Bankers of America Annual Convention, Orlando, Florida, March 4, 2008.
Bush, George W., "President's Radio Address," August 6, 2005.
de Soto, Hernando, The Mystery of Capital: Why Capitalism Succeeds in the West and Fails Almost Everywhere Else, New York: Basic Books, 2003.
Friedman, Benjamin M., The Moral Consequences of Economic Growth, New York: Knopf, 2005, p. 159.
Greenspan, Alan, The Age of Turbulence: Adventures in a New World, New York: The Penguin Press, 2007. 531 pp
Greenspan, Alan, "We Will Never Have a Perfect Model of Risk," Financial Times, March 17, 2008, p. 9.
Hoyt, Homer, One Hundred Years of Land Values in Chicago, Chicago: University of Chicago Libraries, 1933, p. 265.
Keynes, John M., The Economic Consequences of Peace, Cosimo, Inc., 2005.
Krugman, Paul, "The Oil Nonbubble," New York Times, May 12, 2008, A19.
Mayhew, Stewart, "The Impact of Derivatives on Cash Markets: What Have We Learned?", Terry College of Business, University of Georgia, February 3, 2000.
Moss, David A., When All Else Fails: Government as the Ultimate Risk Manager, Cambridge, Mass.: Harvard University Press, 2002, p. 1.
Oz, Amos, How to Cure a Fanatic, Princeton, N.J.: Princeton University Press, 2006, p. 79.
Paulson Henry, Richard Steel, and David Nason, "Blueprint for a Mordenized Financial Regulatory Structure," The U. S. Department of the Treasury, March 2008.
Philippon Thomas and Reshef Ariell, "Skill Based Financial Developement: Education, Wages and Occupations in the U.S. Financial Sector," National Bureau of Economic Research Working Paper No. 13437, September 2007.
Sakolski, Aaron, The Great American Land Bubble: The Amazing Story of Land-Grabbing, Speculations, and Booms from Colonial Days to the Present Time, New York: Harper and Brothers, 1932, p.1.
Schumer Charles E. , "Opening Statement," Joint Economic Committee Hearing, "Evolution of an Economic Crisis? The Subprime Lending Disaster and the Threat to the Broader Economy," September 19, 2007, p. 2
Shiller, Robert J., Irrational Exuberance, 2nd edition, Princeton, NJ: Princeton University Press, 2005
Shiller, Robert J., Macro Markets: Creating Institutions for Managing Society's Largest Economics Risks, Oxford: Oxford University Press, 1993.
Shiller, Robert J., The New Financial Order: Risk in the 21st Century, Princeton, NJ: Princeton University Press, 2003.
Sunstein, Cass Republic.com, Princeton, NJ: Princeton University Press, 2001, p. 201.
Taylor John B. and Williams John C., "A Black Swan in the Money Market," Federal Reserve Bank of San Francisco, April 2008.
Thaler Richard and Benartzi Shlomo, "Save More Tomorrow : Using Behavioral Economics to Increase Saving," Journal of Political Economy (2004), 112(S1): S164-S187.
Wolfe W. Beran, "Psychoanalyzing the Depression," Forum and Century 87(4): 209-15, 1932.
Translations
Chinese complex characters: China Times Publishing Company, Taiwan
German: Campus Verlag, Germany
Italian: Il Sole 24 Ore, Italy
Japanese: Nikkei, Japan
Korean: Min Media, Korea
Spanish: Turner Publications Spain/Oceana Mexico
---
Cowles Foundation for Research in Economics and International Center for Finance
Yale University
30 Hillhouse Avenue, New Haven, CT 06511 USA
Telephone (203) 432-3708 - Fax (203) 432-6167